DOG WASHING AND GROOMING
Full-service and self-service washing available.
GROOMING BY APPOINTMENT ONLY
FULL-SERVICE WASH
In most cases, our experts will shampoo and condition the coat, clip nails, clean ears, brush hair, and mouthwash in two hours or less. No appointment required.
DOG GROOMING
Pamper your pet with a soothing shampoo and conditioner bath, haircut, nail trim, ear cleaning and more. Grooming requires an appointment.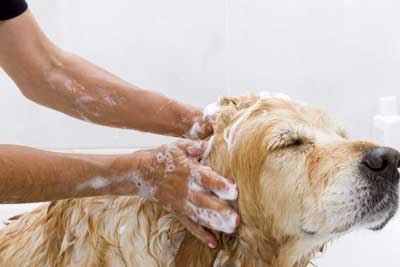 SELF-SERVICE WASH
We provide you with everything you need. Shampoo, conditioner, towels, brushes and more. Clean your pet, make a mess, and we do the rest!
FELINE GROOMING AND BATHING
Your Feline has hygienic needs just as much as your K9. We now offer the same services for Cats as we do Dogs. Pamper all of your pets!
WHY CHOOSE US
We personalize our brand by taking great pride in the services we provide and how we deliver them. Our friendly staff is knowledgeable and attentive to your fur babies needs. We will get them in and get them out, which reduces the anxiety on you and your pet.
OUR GIVE BACK
DirtyPaws DogWash Salutes our local heroes. If you are a Veteran, Military, LEO, Fire and Rescue, Doctor, Nurse or an Educator we are committed to showing you the value you place in your community and with us. Please show your VALID ID an receive EXTRA  10% off your entire bill. This can be combined with our other offers or coupons. 
PROMOTE GOOD HEALTH
Just like you, we care about your pet's health. Ensure your canine is in good shape thanks to Life Vantage Canine Health. It reduces oxidative stress and supports brain, heart, eye, and joint functions. Increase your dog's mobility, flexibility, and cognitive function today, ask our staff about purchasing Life Vantage Canine Health. Your pet's diet is extremely important, visit our Souths Stafford location for raw diet items, freeze-dried treats, toys, and more. 
We only use top quality brands such as Bark 2 Basics and Furminator to groom your dogs.
Don't just take our word for it. Here's what our clients are saying about us!
We love DirtyPaws DogWash! Our dog Luna Mia is very happy all the time after her bath, always smells sooo good and she looks so pretty with her new bandana. The staff is amazing always respectful with us and with her. Thank you so much DP for your service and love!
– Loriana Lopez Calv
DirtyPaws DogWash is and will be the only dog groomer my wife and I will ever use for our boy Bentley! They are flexible and always seem to find a way to fit our boy in when he needs a bath and other basic grooming needs have to be done. The staff are wonderful and treat Bentley as if he is one of their own dogs! Thank you guys for treating our boy like family!!!
– Jeremiah Dawson and Bently (the yellow Lab)
I've been going to DirtyPaws DogWash from years now. They treat my baby like one of theirs. It's nice when we go in and they call my baby with her name. Aloha thanks you all.
– Lina Johnson
DirtyPaws DogWash is the absolute best! Ollie is old and blind and can scared easily. They go above and beyond to care for him, even when he is a little bit of a stinker. He is always groomed beautifully and we will never leave Dirty Paws!
– Emily McKinney
We have been clients of DirtyPaws DogWash since their opening. They always have the friendliest staff and our fur babies Gunner and Butterbean are always clean and happy when they are returned. There is no one else we would trust.
– Steven and Tamara Herndon
We love DirtyPaws DogWash Zach and Zoey have been going here since there were puppies and Zach will not go to anyone except the staff of DirtyPaws DogWash. They are great with my fur babies and they always smell amazing when I picked them up.
– Mary McNealy
Love DirtyPaws DogWash! I have been taking my Dixie and Joey there for a few years now, and I am always greeted with a smile! They do a great job with my fur babies! They always leave there smelling clean and looking spiffy! They offer the best price around and I have always been pleased with the staff and their services!
– Jennie Hood, Dixie and Joey
DirtyPaws DogWash is the BEST! Suki and Yuki love going there. The staff is always friendly and listens to my concerns about my pups and their behaviours when getting washed. Our dogs always come back happy and clean. Yuki is a husky and hates water and tried to howl his way out of it but the staff always gets him so clean and white. Suki loves bathes and she loves all the staff there she too comes back so clean and white. We always recommend them to all dog owners.
– Tania Acosta
We love DirtyPaws DogWash! Our yellow lab, Rosie always leaves happy and smelling wonderful! The ability to drop off for baths with no appointment required is the best. Always a good experience and the prices are reasonable.
– Claire Kreiger and Rosie